This shop has been compensated by Collective Bias, Inc. and its advertiser. All opinions are mine alone. #PilotYourLife #CollectiveBias
In the age of all things electronics, the art (and romance) of writing a letter is fading away into nothingness. As someone who really enjoys writing and socializing via a letter, I felt that this art needed to be taught to my almost-kindergartner son. Growing up, we kept in touch with old friends after moving to a different city by becoming penpals. With social media now helping us keep in touch, letters are pretty much unheard of. Not only are letters becoming a thing of the past, addressing an envelope is something most kids don't know anymore.
Hover over images below to complete your Back-to-School shopping!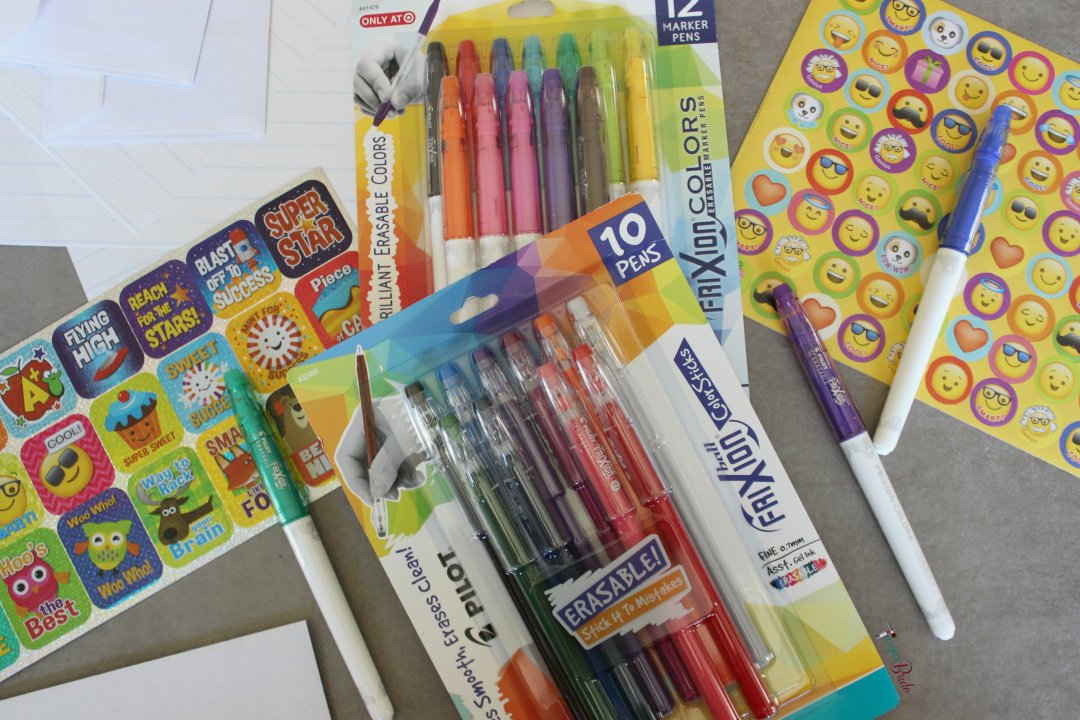 Shopping for Back-to-School products is one of my favorite things to do. In fact, I would always look forward to finding (and buying) all the new items to help me stay organized and productive throughout the school year. To give my son a good idea on letter writing, stuffing and addressing an envelope, and applying a stamp, I shopped the office supplies aisle of Target and found everything I needed. These cool and innovative FriXion Erasable ColorSticks and FriXion Erasable Colors Marker Pens (exclusive to Target) got me really excited. Not only can you write with pens and markers, any mistakes can be erased without the eraser shavings and no wrinkly paper. This is important because when you are learning to address an envelope and write a letter, errors are bound to happen.
How To: PenPal and Address an Envelope
Step 1: Gather supplies.
Stickers
Envelopes
Stationery
Step 2: Find a penpal. You can either search through a penpal network or find out-of-state friends with kids.
Step 3: Write a letter to said penpal. Focus on handwriting and spacing words for little children and vocabulary and grammar for elder ones.
Step 4: Fold the letter to fit into an envelope.

Step 5: Stuff the envelope with the letter for your child's penpal.
Step 6: Teach your child that their address will go in the top left of the corner and their penpal's address goes in the center of the envelope. For a practice envelope you can write "to" and "from" instead. Since you are using FriXion Colors Erasable Marker Pens, remember it can easily and smoothly be written, erased, and rewritten!
Step 7: For a practice envelope, use a square sticker in the top right corner, or show your child how to lick a stamp the old-fashioned way or use an adhesive stamp instead.
How will you use YOUR Pilot FriXion ColorSticks & Erasable Marker Pens?
STOMP Out Bullying™ is dedicated to changing the culture for all students. It works to reduce and prevent bullying, cyberbullying, sexting and other digital abuse, educates against homophobia, LGBTQ discrimination, racism and hatred, and deters violence in schools, online and in communities across the country. In this diverse world, STOMP Out Bullying promotes civility, inclusion and equality. It teaches effective solutions on how to respond to all forms of bullying, as well as educating kids and teens in school and online. It provides help for those in need and at risk of suicide, and raises awareness through peer mentoring programs in schools, public service announcements by noted celebrities, and social media campaigns.