Momma Style. Just because you are a mother/mother-to-be doesn't mean you can't dress up and look your best. For me, I enjoy makeup (as you all already know), statement jewelry, and of course, good hair. But, I told you that when we discussed the reason I chose the PinkBlush Magenta Chiffon 3/4 Sleeve Maternity Dress, a gorgeous chiffon dress, but today, I have a different outfit – the Black Chiffon Floral Paisley Maternity Dress – to share with you in a similar style – cinched under the bust for a flattering baby bump.
If you missed my announcement, I am currently in my 33rd week with my 2nd child. Since it's a little hush hush still, you might not have heard until now! But, since I'm getting closer and closer to my due date, my baby bump definitely lets everyone know the going ons. That's why I picked a cinched under the bust look to flatter my growing bump. The size I chose is the same as I usually wear, which means this dress will be perfect for me to wear even after baby comes. The sizing chart is pretty accurate, so feel free to go based on that. There are also plus sizes available for certain dress patterns, which I find refreshing, as not everyone is S – XL sized.
This easy, breezy chiffon dress is double-lined to prevent sheerness and comes in 3 beautiful colors for the PERFECT spring ensemble – mint, pink, and black. It is also available in 1x, 2x, and 3x in the mint and pink colors. I love this dress because of the feminine floral and paisley pattern, and I'm a huge fan of having lots of black dresses on hand because they are so versatile. I paired them with black tights and boots because it looked terrific together.
PinkBlush is not only a maternity boutique but they also have dresses, leggings, and more for women, women plus, and even for post-partum, such as nursing robes and more.
Let's take a closer look at the Black Chiffon Floral Paisley Maternity Dress.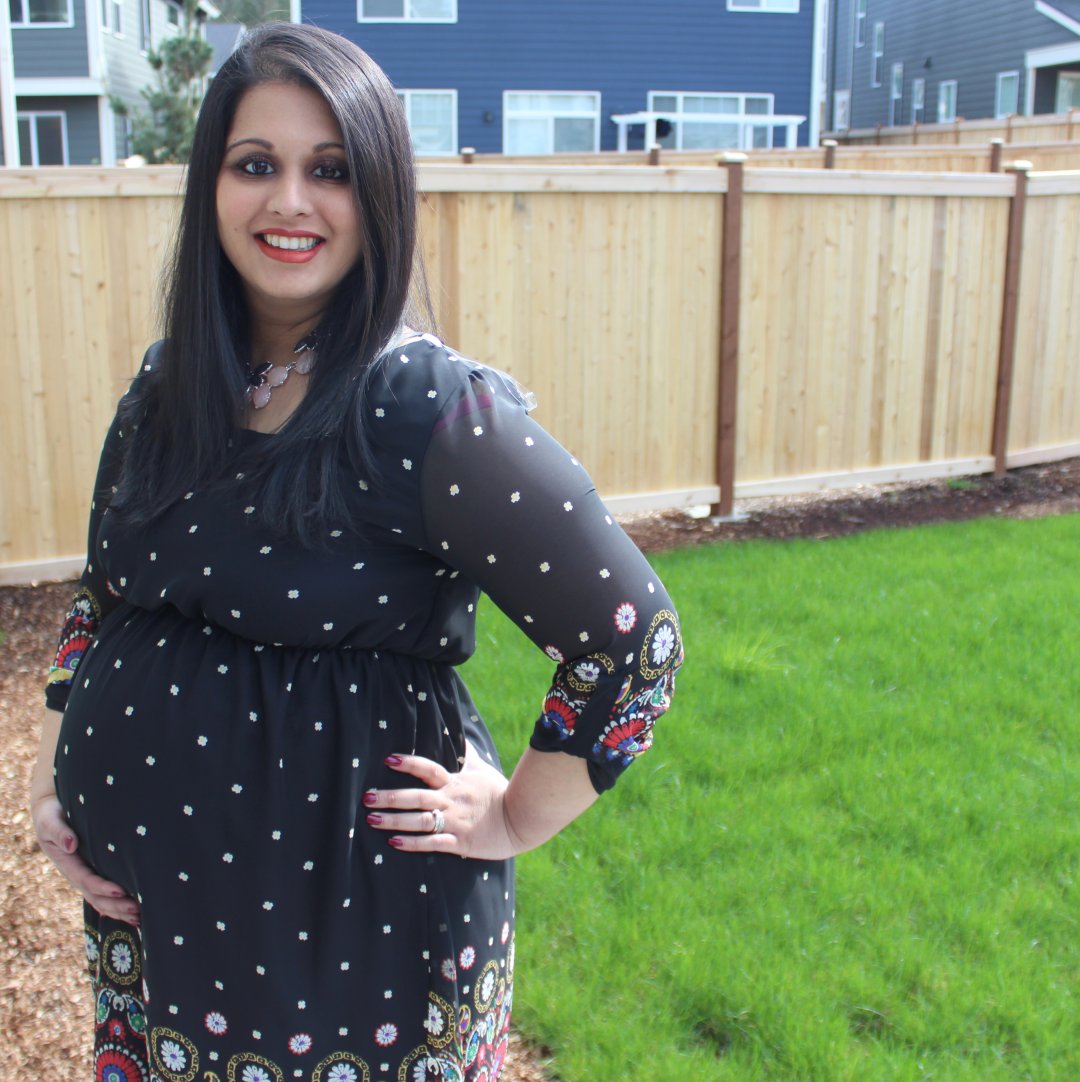 What is YOUR style? PinkBlush is not only a maternity boutique, so check out their trendy online boutique for dresses, leggings, shoes, jewelry, and lots more!
Press sample. All opinions are honest and my own.